I mentioned earlier that there were quite a few books that I read that I never wrote a review on. (Nearly a dozen…) They just sat there, mocking me, begging me to share my thoughts. And then I just gave up completely, and let them go. But some of those books were good. Some of them I want to at least acknowledge and give a nod to like a good blogger and reviewer. So here it goes. My very concise, condensed version of a book review– or as I may begin to call them, 30 second reviews.
The Wild Robot by Peter Brown
From Goodreads: When robot Roz opens her eyes for the first time, she discovers that she is alone on a remote, wild island. Why is she there? Where did she come from? And, most important, how will she survive in her harsh surroundings? Roz's only hope is to learn from the island's hostile animal inhabitants. When she tries to care for an orphaned gosling, the other animals finally decide to help, and the island starts to feel like home. Until one day, the robot's mysterious past comes back to haunt her.
This is a middle grade novel from one of my favorite children's illustrators, Peter Brown. I was stoked when I saw that he had a novel coming out, because his picture books are some of my favorites to read during storytime at work. This one didn't disappoint. It's an adorable, heartfelt story about what it means to be a friend, a community, and a family. There's action and adventure, with humor and heartbreak thrown in to round it out. With Brown's illustrations scattered throughout, I was hooked. I loved following Roz through her journey, navigating her new home, making new friends, and finding out what it means to love.
Wink Poppy Midnight by April Genevieve Tucholke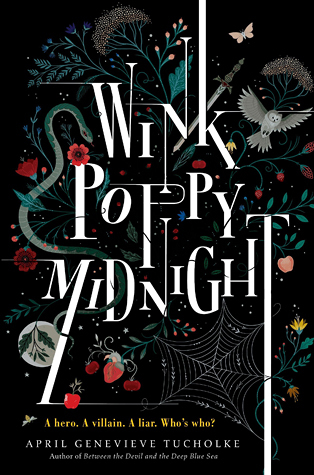 From Goodreads: Every story needs a hero.
Every story needs a villain.
Every story needs a secret.
Wink is the odd, mysterious neighbor girl, wild red hair and freckles. Poppy is the blond bully and the beautiful, manipulative high school queen bee. Midnight is the sweet, uncertain boy caught between them. Wink. Poppy. Midnight. Two girls. One boy. Three voices that burst onto the page in short, sharp, bewitching chapters, and spiral swiftly and inexorably toward something terrible or tricky or tremendous.
What really happened?
Someone knows.
Someone is lying.
This was one that sat for so long, I kind of forgot what happened. I was drawn in by the cover (how gorgeous is it??) and by others who raved about it and its plot twist. I'm a sucker for a good plot twist, so I picked it up. I remember reading it. I remember being drawn into the world and the characters. I remember thinking, "this is insane" at some parts. And then I remember not being completely blown over by the twist. It was twisty, definitely, and I didn't see it coming, but I wrote in the notes on my phone "more of a whimper than a bang." Still a good story though. A very quick read that I'm glad I read. Just not one of my absolute all-time favorites.
The Darkest Corners by Kara Thomas
From Goodreads: There are ghosts around every corner in Fayette, Pennsylvania. Tessa left when she was nine and has been trying ever since not to think about it after what happened there that last summer. Memories of things so dark will burn themselves into your mind if you let them.
Callie never left. She moved to another house, so she doesn't have to walk those same halls, but then Callie always was the stronger one. She can handle staring into the faces of her demons—and if she parties hard enough, maybe one day they'll disappear for good.
Tessa and Callie have never talked about what they saw that night. After the trial, Callie drifted and Tessa moved, and childhood friends just have a way of losing touch.
But ever since she left, Tessa has had questions. Things have never quite added up. And now she has to go back to Fayette—to Wyatt Stokes, sitting on death row; to Lori Cawley, Callie's dead cousin; and to the one other person who may be hiding the truth.
Only the closer Tessa gets to the truth, the closer she gets to a killer—and this time, it won't be so easy to run away.
This is another one that I read, then promptly forgot. Much like Wink Poppy Midnight, it was dark and twisty and you spent most of the time trying to figure out what was happening and who did what. But also like Wink Poppy Midnight, the twist came and I just didn't care that much.
Burning by Danielle Rollins
From Goodreads: After three years in juvie, Angela Davis is just a few months shy of release, and she'll finally be free from the hole that is Brunesfield Correctional Facility. Then Jessica arrives. Only ten years old and under the highest security possible, this girl has to be dangerous, even if no one knows what she did to land in juvie. As strange things begin happening to Angela and her friends that can only be traced to the new girl's arrival, it becomes clear that Brunesfield is no longer safe. They must find a way to get out, but how can they save themselves when the world has forgotten them?
This seemed like it had such potential to be a creepy psychological thriller– my FAVORITE. There were scenes that had so much creep-factor that I thought, "Wow! This is amazing!" And then it got weird. And not in a way I really enjoyed. The side characters were incredibly stereotypical–think every bad movie or show you've seen about prison–and the plot went in a direction that left me completely disconnected from the story. I wanted to like it from the synopsis, but… Meh.
Six of Crows by Leigh Bardugo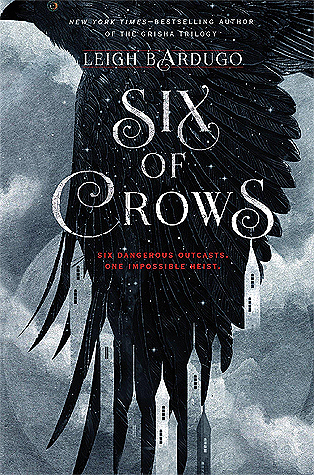 From Goodreads: Ketterdam: a bustling hub of international trade where anything can be had for the right price—and no one knows that better than criminal prodigy Kaz Brekker. Kaz is offered a chance at a deadly heist that could make him rich beyond his wildest dreams. But he can't pull it off alone…
A convict with a thirst for revenge.
A sharpshooter who can't walk away from a wager.
A runaway with a privileged past.
A spy known as the Wraith.
A Heartrender using her magic to survive the slums.
A thief with a gift for unlikely escapes.
Kaz's crew are the only ones who might stand between the world and destruction—if they don't kill each other first.
This might turn into a bit more than a 30-second review because I can't believe I let this book sit on my desk for as long as I did without writing about it. I LOVED this book. It's an Ocean's 11-style heist story set in a bit of a fantasy Russia backdrop. I was hesitant to pick it up at first because it revisits the world Bardugo created in her Grisha Trilogy (Shadow and Bone, Siege and Storm, and Ruin and Rising), which I haven't read. I wasn't sure if I would understand and be able to keep up in a world that I knew nothing about, but I shouldn't have worried. It may have been helpful to read the trilogy beforehand to understand the Grisha, who they were, and the prejudice that others have against them, but it wasn't necessary. Six of Crows stands well on its own.
When the world is threatened with destruction by what amounts to magical biological warfare, Kaz and his crew of misfits and thieves are offered a very handsome reward to essentially save the world. But in order to do that, they have to break into the most heavily guarded vault in the center of a military training facility in the most protected court in the world. And get out alive.
I want to see this as a movie, because it would be amazing. It's gritty and dark and filled with action. At one point, I wrote in my notes, in all caps, "HOLY SHIT HE JUST _______________" I won't spoil what happened. But it was gruesome. And it kind of sealed the deal on my love for this book. I can't WAIT to pick up Crooked Kingdom to find out how it all ends.
Alright. That's about half of the books that I haven't reviewed yet.. So stay tuned for another installment of 30-second reviews!
Photo Credits: All cover photos are from Goodreads.